When it comes to junk removal, most people think that removal companies will take just about anything. While this is true for us here at Junk Removal Inc. as we will take anything for all clean outs including residential and commercial junk removal. There are some companies out there that will not take certain items as they are deemed hazardous or that specific item needs to be disposed of in a certain manner. The items listed below are those that most companies will deem as hazardous and will most likely not take them.
Items Not Taken By Junk Removal Companies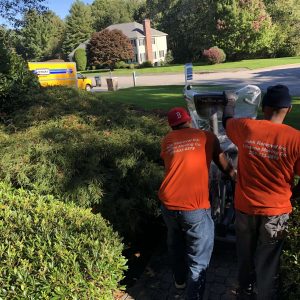 Home Repair: Paint, propane, kerosene, paint thinner.
Garden Care: Herbicides, fertilizer, pool chemicals, pesticides, rodent killer.
Household Care: Drain cleaners, bleach, oven cleaner, floor cleaner, ammonia, aerosol cans, batteries.
Vehicle & Motor Care: Antifreeze, gasoline, brake fluid, motor oil, radiator cleaner.
Mercury Products: Fluorescent bulbs, thermometers, thermostats, iodine.
Appliances With Coolers (refrigerators, freezers, AC Units): If your appliance is an older model then it may include Freon which will need to be inspected and removed by a licensed technician.
Other: Radioactive waste, explosives, ammunition, and medical waste.
While there are many items on this list, you can rest assured that the experienced crew at Junk Removal Inc. can remove anything. Including the items listed below, it is what we pride ourselves in while making us different from the competition.
Junk Removal Inc is a family owned and operated junk removal company located in Massachusetts and Florida.
Feel Free To Contact Us Anytime.