"Awesome company. We had an 8×16 shed taken down and removed. Ken was very responsive in quoting the job and keeping us informed with regard to the process as well as providing reminders. They were flexible on a date so I could be home which I really appreciated. They were on time, extremely efficient and very professional. They completed the task in about 90 minutes and left the place cleaner than when they arrived. Great job! I would highly recommend this company."
~Larry Sabean
"Junk Removal, Inc. was great to work with. The staff was polite, efficient, and very helpful. A HUGE amount of junk was removed from my home in just over two hours. Amazing!"
~Eleanor White
"I called them on a Friday and they arrived the next day to remove junk from our garage. They were punctual and very reasonably priced. I've used them twice and will use again."
~Karen Ward
"Ken was fast at getting a team out and his follow up and follow through was great!! His team of guys were friendly and accommodating. Being new to town i was desperate for help and Ken's guys were my hero's!!! I highly recommend!!! "
~Bryce Lenzen
Our entire junk removal process is eco-friendly. From Junk Removal to Light Demolition, we always ensure the safety of our employees, and do our best to ensure we protect the environment. From Residential Junk Removal to Commercial Junk Removal, we got you covered. We provide the best junk removal services that will remove all non-hazardous items. Leaving your property free from unwanted junk, debris, and trash.
No matter how big or small your Junk Removal needs may be, our Junk Removal Service is the best solution.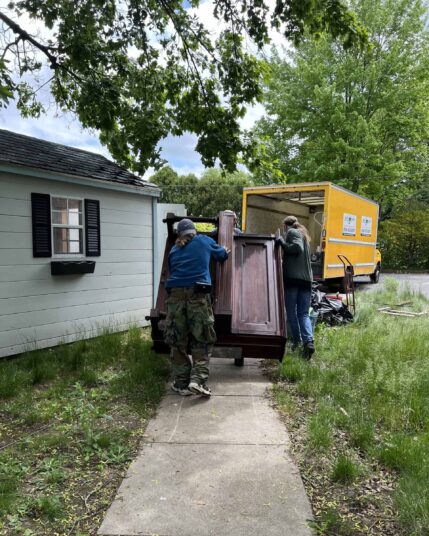 At Junk Removal Inc we take every step to ensure peace of mind for our customers. Our professional junk removal teams are here to make your life easier with reliable and friendly service. Our entire process is geared to make your life easy. Starting with your first phone call, to payment, and everything in-between.
We often provide same or next day scheduling. Our team works tirelessly to fit your scheduling needs. We're very easy to work with.
Our services include:
• Washers & Dryers
• Refrigerators
• Appliances
• Furniture and Household Items
• Construction Debris
• Sheds, Hot Tubs, Swing Sets
We take anything and everything. With our Junk Removal Services, you get integrity, punctuality, and dedication.
Commercial Junk Removal Services
Our teams provide the following:
• Offices
• Retail Stores and Warehouses
• Construction Debris
• Restaurants and Equipment
• Junk left by tenants
At Junk Removal Inc, our commercial junk removal service is fast, reliable and efficient.
• Cluttered Space
• Crammed Closets
• Restaurant Equipment
• Old Furniture
• Electronics
Don't lose out by tying up valuable space while your facility is in disarray. You take care of your business — leave the junk to us.
We provide Light Demolition for any room, home, or office. Making your next home improvement project easy and affordable. Our Light Demolition Services and Debris Removal ensures all junk is properly removed. Leaving your cleanout project completed without error.
At Junk Removal Inc we provide additional Junk Removal Services including:
• Swing Sets
• Bathroom Demolition
• Cabinet Demolition & Removal
• Commercial Demolition for Retail Shops & Centers
• Carpet Rip Up
• Debris Removal
• Deck Demolition
• Drywall Demolition
• Fence Removal
• General Hauling
• Hot Tub Removal
• Kitchen Demolition
• Office Cubicle Removal
• Play Set Demolition & Removal
• Shed Removal
Junk Removal Services That Help Protect The Environment
We donate all the items possible. We will drop off donations and recyclables at no extra charge.
Junk Removal Inc is a family owned and operated junk removal company. We proudly serve Metro West Boston, MA, and the surrounding areas. When you need unwanted junk removed from your home, business, or storage space, we got you covered. Remember, we are fully ensured for your peace of mind.