The moving process is already stressful as is with planning, packing, loading, and unloading. This overwhelmingness is heightened when the move is a long distance move. These types of move entail a slightly different preparation method as there is a lot of driving and belongings can be damaged through transport. Here is a quick list of tips to help you with your Long Distance Moving.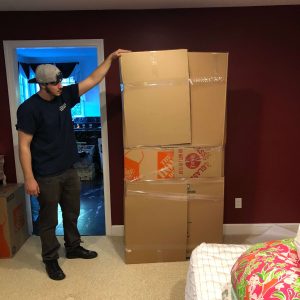 Tips For Long Distance Moving
Pack your belongings for the long haul and Make sure all items are packed neatly and are well cushioned inside their respective boxes.Our team packing and moving a large mirror, wrapped with paper, padded and then custom boxed.
Ensure your belongings as a lot can happen on these long drives so it is always a good idea to check insurance policies moving companies have.
Keep items you will need upon arrive close to you and separate from everything else.
Inspect outdoor furniture for any insect infestation before loading.
Pack your mattress in a box so no bending or damage comes to the mattress during transport.
Don't pack food or liquids as they can go bad or be crushed in transport which can affect other items in the truck.
Organize belongings when packing for easy unloading when you reach your destination.
Mark your boxes with your name and information of where the box is going. This is just in case your mover has another family's belongings that are going the same distance.
Be aware of the delivery window as long distance moves usually have windows of when belongings will get to the destination. Pack clothes and necessary items you will need during this waiting period.
Be cautious of your move-in situation as you will need to calculate if you can have the big moving truck parked in your home or neighborhood or if a smaller shuttle will be needed.
Know of your building's move-in stipulations if you are moving to an apartment or condo as different places have different policies.
Junk Removal Inc is a family owned and operated junk removal company. For the best Junk Removal Services, trust in Junk Removal Inc.
Feel Free To Contact Us Anytime.